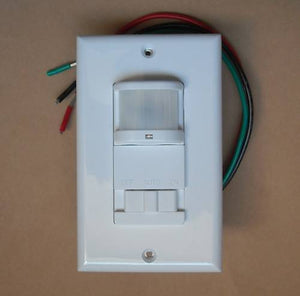 OCCUPANCY WALL SENSOR SWITCH
2 OPTIONS:
AUTO ON /AUTO OFF - MANUAL ON /MANUAL OFF
NEW IN THE BOX (INSTRUCTION SHEET ENCLOSED)
RATED : 120VAC - 60 Hz ;

Min. 30W

- 500W Max.

REPLACES A STANDARD LIGHT OR FAN SINGLE-POLE SWITCH

WORKS WITH INCANDESCENT, FLUORESCENT (RAPID START BALLAST ONLY) , CFL , MLV , ELV

(Min. 30W)

COVERS AREA UP TO 24' X 25' (600 S.ft) - 180 DEGREE

3 WIRES: BLACK: HOT - RED: LOAD - GREEN: GROUND ; NO NEUTRAL WIRE (WHITE) REQUESTED

ADJUSTING TIME DELAY MANUALY FROM 15 SECONDS TO 30 MINUTES.
THIS SENSOR IS DESIGNED TO REPLACE A STANDARD LIGHT OR FAN SWITCH. IT'S IDEAL FOR LIVING AND DINING ROOMS, FAMILY ROOMS AND OTHER INDOOR AREA IN RESIDENTIAL SPACE.
IT HAS THREE STATES:
OFF

: WHEN THE SWITH IS IN THE CLOSED STATE, THE LOAD CAN'T OUTPUT.
AUTO

: WHEN THE SWITCH IS IN THE AUTOMATIC STATE, IT CAN AUTOMATICALLY TURN THE LOAD ON OR OFF DEPENDING ON WHETHER THERE IS A PERSON BE DETECTED. THE AMBIENT LIGHT OVERRIDE PREVENTS LIGHTS FROM TURNING ON WHEN THERE IS AMPLE NATURAL LIGHT. LIGHTS ARE ONLY ON WHEN NECESSARY.
ON

: WHEN THE SWITCH IS IN OPEN STATE, THE LOAD CAN OUTPUT TILL MANUAL CLOSING.
LED INDICATOR: OPERATES BY DETECTING HEAT GENERATED ENERGY. WHEN A PERSON ENTERS ROOM, IT WILL BE OPEN. AND GET DARK OR CLOSE WHEN A PERSON LEAVES OR UNOCCUPIED.